HOW DOES THE PACKAGED SYSTEM WORK?
Clivet's Packaged Rooftop system is the quickest to install and the most economical solution for ensuring the comfort (cooling and heating) and air quality of shopping centres, supermarkets, hypermarkets, railway stations, airports, bars, restaurants, conference halls, cinemas (with more than 1500 auditoriums served), theatres, discotheques and industrial buildings.
Full inverter or multiscroll and air to air or water to air rooftop heat pumps locally produce (only when and where needed) the cooling and heating energy required to air-condition the room and adapt their operation according to the actual heat load and the amount of fresh air needed (automatically managed with an air quality probe based on the actual room occupancy), achieving very high seasonal efficiencies.
The utmost energy saving is thereby ensured as a result of thermodynamic recovery, which has always been one of Clivet's strengths and is now provided by the innovative and patented REVO, and by the free cooling function, which when advantageous uses external air directly to fulfil internal loads.
Clivet's rooftop systems are also extremely ecological thanks to the use of R32 refrigerant.
To ensure the best air quality, these systems can be fitted with different types of filters, including electronic filters with iFD (absolute filtration) technology, and UV-C germicidal lamps.
The fresh air that is purified and brought to the right temperature is then transferred to the rooms by an air distribution and diffusion system consisting of diffusion ducting and terminals.
Our Rooftop units are Eurovent-certified, which is another guarantee of quality and reliability.
---
Medium crowded area applications
High crowded area applications
All outside air applications
CSRN-XHE2-FFA 12.2-24.4_R-410A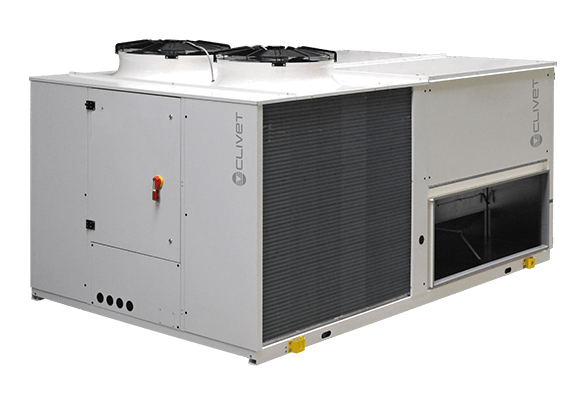 Packaged air-conditioning unit
CSRN-XHE2 FFA: reversible heat pump
Air cooled
Roof Top
Capacity from 33 to 90 kW
Details
Specifically designed for 100% fresh air conditioning application
No contamination between supply and exhaust air
High part load efficiency
Smart Freecooling and Defrosting management
Enhanced air filtration with low ventilation consumption
Thermodynamic Recovery
Compliant with main communication protocols Bacnet, Lonworks and Modbus)
Many available configurations suitable for the most different project situation
Interaction with third part extraction systems
All component included on board for an enhanced installation













Why choose Packaged solution
DECENTRALIZATION AND REALIBILITY
Each served area is independent of the other to exactly meet the need for comfort. Over 25 years of experience and complete industrialization of units guarantee high reliability.
REDUCTION OF MANAGEMENT COSTS
The management costs are reduced thanks to: high efficiency of the refrigeration circuit optimized for the operation at part load, free-cooling, energy recovery in series with air exhaust, airflow control.
ENLARGEABLE OVER TIME
The system allows successive expansions of the system, or change of destination and arrangement of the air-conditioned surfaces, as the units are completely autonomous one from each other.
PRODUCT FOR EACH APPLICATION
The packaged system meets the comfort needs of medium and large surfaces thanks to a range of units specialised for application-medium, high, crowding and full-fresh air - with capacities from 13 to 376 kW and airflows from 600 to 16.700 l/s.